Easter in Slovenia
A Lifestyle Children's Photo Session at Lake Preddvor
Last spring, I had the opportunity to visit Slovenia during the week leading up to Easter and share in some of the country's religious and cultural traditions. As a sometimes destination photographer, one of my favorite travel pastimes is to use photography as a cultural bridge with the locals I meet, and as a means of educating friends and family back home.
I met Rebekah (+ her sons Blaz and Brin) and Ziva (+ her daughters Mirna and Zarja) through my Slovenian pen pal of 20 years, Janja. The three of them work together at the University in Ljubjalana (in Slovenia's capital) and their family friendship spans across three generations. In addition, Rebekah and Ziva are high school friends and their children spend weekends, summers and all holidays together.
We went to Rebekah's majestic hometown of Preddvor, Slovenia for the photo shoot (just under an hour from Ljubjlana), where there is a serene lake and the Julian Alps as the perfect backdrop. It was Good Friday, and the kids were getting their Easter baskets ready.
(From Rebekah): "A week before Easter, on Palm Sunday, people take a decorated olive-tree-brunch or a butarica to the church to be blessed. Children sometimes put an orange or an apple on the branch. This branch kept through the year and used during three important occasions: Christmas Eve, New Year Eve and the Twelfth Night. On Easter Sunday, a basket of food is prepared and covered with a handmade cloth and brought to the church to be blessed. A typical Easter basket includes bread, colored eggs, ham, horseradish and a type of a nut cake called potica - which has religious symbolism referencing the Passion of Christ. While everyone is in the church, the Easter Rabbit comes and brings sweets to the children."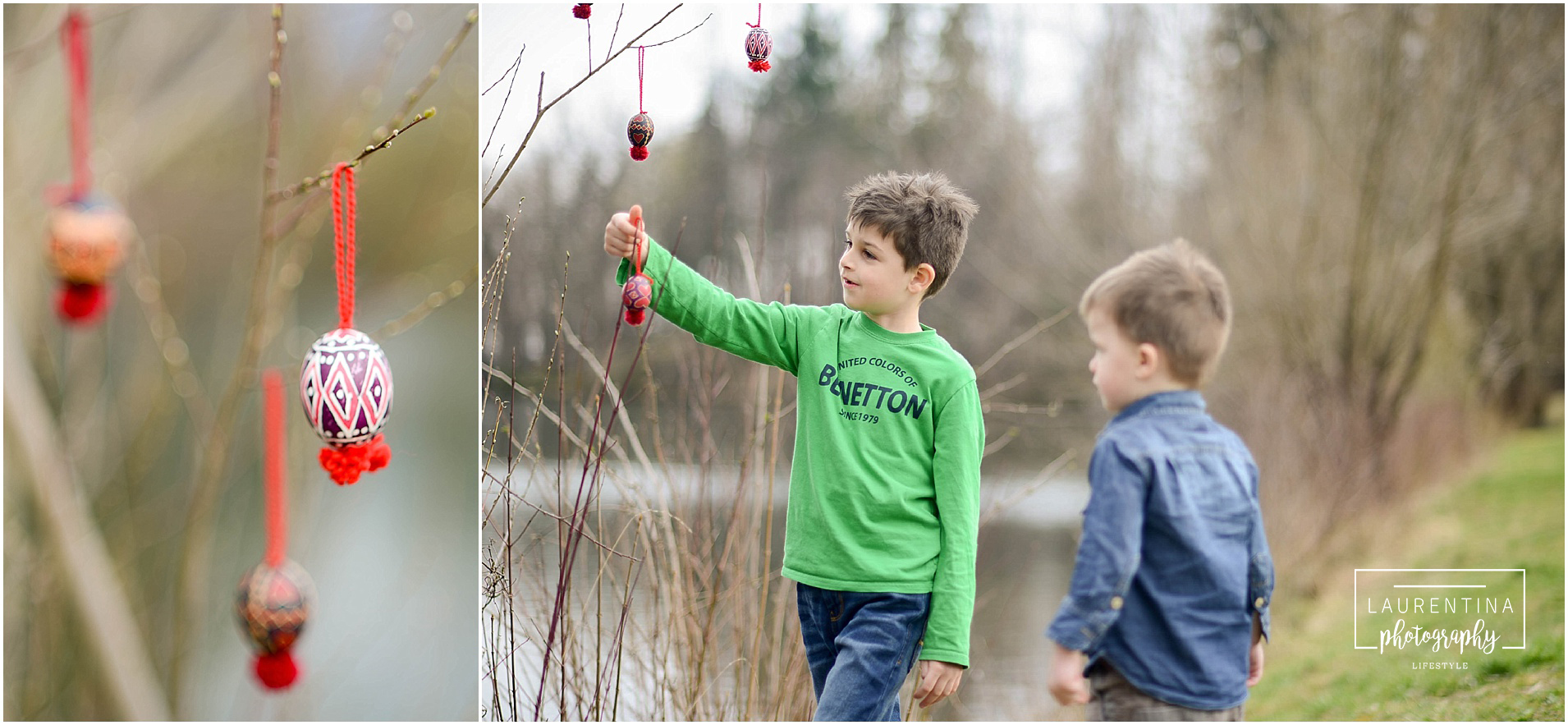 It was fun learning about Slovenian Easter traditions with my four new Slovenian friends in such a storybook, whimsical setting. Even though English is taught in school, the kids could not understand much of what I was saying (their moms had to translate) but thankfully, laughter and the word "smile" is universal. And I loved how Rebekah and Ziva simply let their children explore without hesitation... the ultimate "childhood unplugged" experience!
Slovenia is a darling little country with so much heart and I can't wait until my next trip back! Hope you enjoyed this post on Slovenian Easter traditions... since Easter is so late this year (and I gave up desserts for Lent), I can't stop asking myself, "Are we there yet?"
Photography: Laurentina Photography
Styling: Rebekah Zalle Zorman + Ziva Broder
Children's Wardrobe:
Mirna and Zarja (H&M, Doc Martens, Converse)
Blaz and Brin (United Colors of Benetton, H&M)